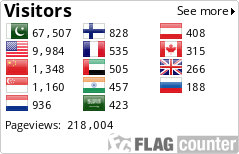 A Leading Supplier of Recondition Photocopier in Karachi
KarachiCopier.pk is one of the leading Supplier of Recondition Photocopier in Karachi-Pakistan, company is involved in the sale and service of refurbished photocopiers for more than twenty years.
The organization has also got the privilege of being pioneer copy machine service provider in Karachi and enjoys good reputation among our customers throughout Karachi.
The company has established itself as a leading supplier of refurbished Photocopier in Karachi mainly imported from Europe and USA.
We carry selected models of MINOLTA RICOH and CANON copiers. Each copier is fully inspected and refurbished in our workshop so when you take delivery you can be sure the copier is in top class working condition.
You will save thousands of Rupees by purchasing refurbished copiers from us.
For more information call our representative
021-32422592 & 0336-2588702
Email: info@karachicopier.pk
Vision
Today, the business needs are changing rapidly. The competition in almost every industry is increasing, mostly due to rising customer demands. This requires businesses to adopt such a strategic plan that can enhance the effectiveness and efficiency of resources available within the organization, such as information, in such a way that organizational goals can be achieved.
MISSION STATEMENT:
KarachiCopier will market premium quality office automation equipment and provide state of the Art document handling solutions to its valuable clients. Our sales will be backed up by a Network of highly efficient after sales support infrastructure manned by competent Professionals. We will ensure our products and services guarantee the best value for Money to our customers. We strongly believe that success in business is dependent on remaining a totally customer driven organization and in providing levels of services which are second to none. It is our aim to ensure all business associations with KarachiCopier are most pleasurable Experiences.
What Do We Have For You?
Printing Solutions:
Our product range includes:
* Digital Copiers from 15-cpm to 135-cpm
* Digital Copy Printers, 120-130 copies per minute
* Large Format A0 size Copiers
* Colored Copiers & Colored Printers and scanners
* Mono Laser Printers, 16ppm to 45ppm
Our Satisfied Customers