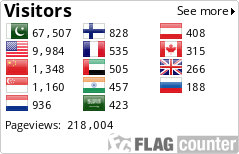 Reconditioned Photocopier in Karachi
Refurbished digital copiers machines
are not only environmentally friendly but cheap too. Saving 80% or more of the cost of new machine can be made by buying , leasing or renting a reconditioned digital photocopier from US/UK.
Used photocopiers
have been supplying servicing Ricoh, Infotec, Nashuatech, Lanier, Rex Rotary and Gestetner. In this digital age, the performance of Refurbished digital copiers, together with good service back-up, compares very favorable with the
new digital copiers
.
KarachiCopier.pk
take your inquiry with professional hands, no matter its small or large Please take time to visit our showroom and then contact us to discuss how we can help you to select
best photocopier machine
for your office need in the city of Karachi.
We are the largest and most trusted Photocopiers saler,canon photocopier & laser printer in Karachi Pakistan. We deal in following models,
RICOH
MINOLTA
KONICA
TOSHIBA
NASHUATEC
GESTETNER
KYOCERA
PANASONIC
XEROX
CANNON
HP
Our Satisfied Customers